Cigar box pen case
This is a nice cheap way to store your pens.
Step 1. Go find yourself a cigar box. I got this box for free because a friend of mine is a wine salesman and is always in shops that sell cigars. Most stores around me have empty cigar boxes for $5 and they vary in size. Try asking around at any place that sells good cigars, you'll probably find something very cheap.
Step 2. Buy your choice of color of pen tray from Go Pens. These are of a good size, I bought 2 and have enough to line 4 cigar boxes.
Step 3. Cut to size and press into the bottom.Take your time with this and use a straight edge to cut the tray as cleanly as possible.
That's it! Here's the finished product: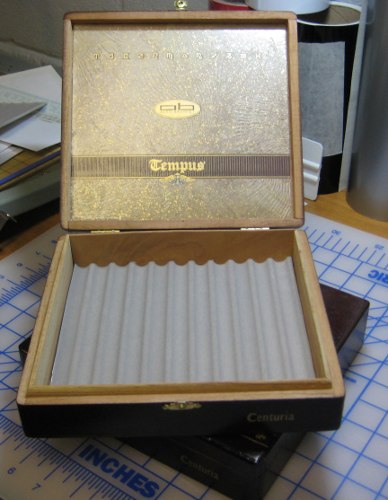 I made this one for a friend. It took all of 5 minutes and will hold 11 pens. They're so easy to make, I strongly suggest you try it if you need a better way to store your pens.