Review: Field Notes Mackinaw Autumn
In the world of the pocket sized notebook, the Moleskine reigns supreme. You may not be a fan of them, but you know what they are. Naturally challengers will rise up to compete with the king and they will either fall by the wayside, or carve out a little niche for themselves under the umbrella that is Moleskine. Field Notes is one of those challengers and one I had high hopes for since the first time I heard of them.
If you're not familiar with Field Notes, they've been cranking out pocket sized notebooks for a while now — I couldn't find a definitive answer to when they began but I believe it was sometime in 2008 (feel free to correct me). Their main product offering is a 3.5"x5.5" notebook with a brown cover and 48 pages of lined, graph, or plain paper. At some point in time, they began selling limited edition color combinations and I happened to be quick enough to snap up a 3 pack of their Mackinaw Autumn set. Apparently they sold out of these in 22 hours so I count myself lucky. They arrived today and I couldn't help but dive right in for a review.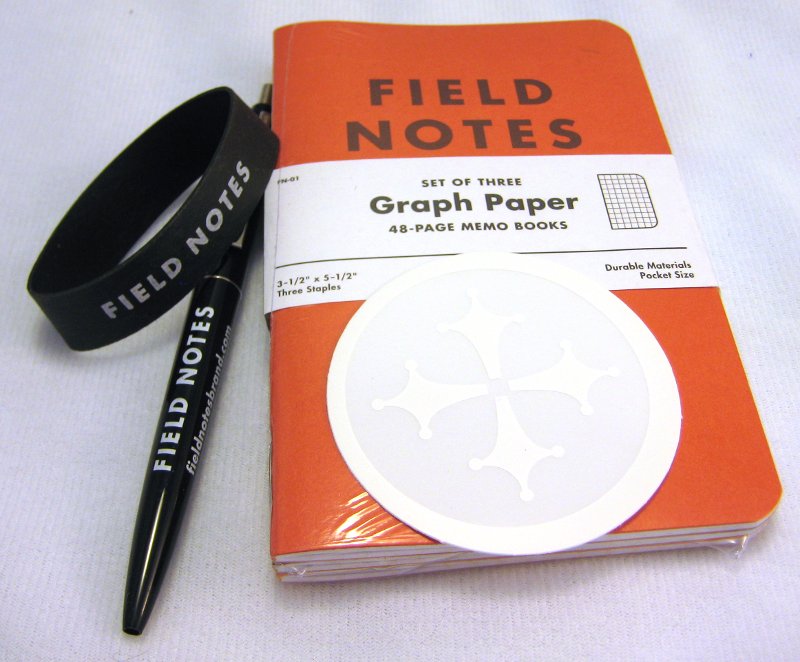 As always, Field Notes included a few freebies; in this case it was a "general purpose band of rubber" and an ink pen. I was kind of hoping for one of their pencils but I'm not complaining. They also included a sticker which is the logo of Coudal, the parent company of Field Notes.
The Mackinaw Autumn set comes in the colors of a Michigan fall, something I'm very familiar with. The covers were even made in Niles, Michigan by French Paper Company which made me even more excited to purchase them. Field Notes describes these colors as "burnt red", "running-board brown", and "harvest moon orange" but the notes in the back cover call them "Tangy Orange", "Safety Orange", and "Orange Fizz". I'm not sure which are the official names but they look snazzy either way.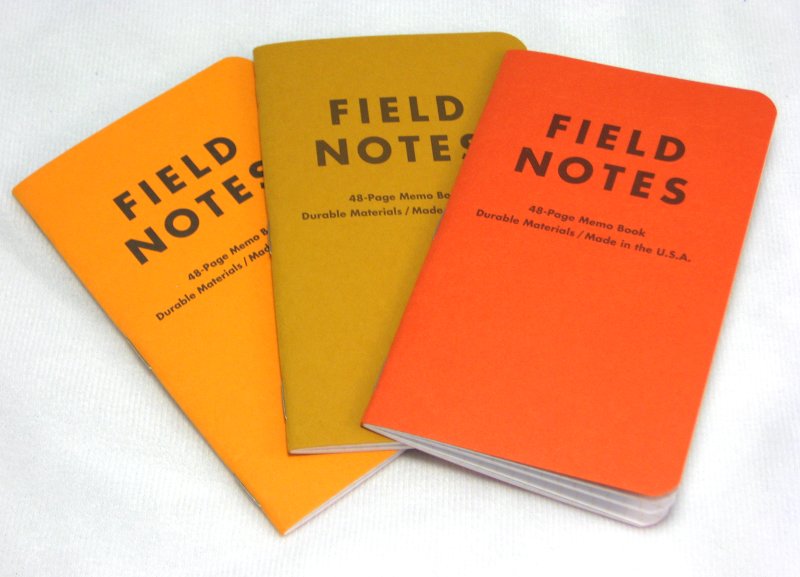 Now we get into the meat and potatoes of the review. When I first heard of Field Notes, it was on FPN and the general consensus was that they were fountain pen friendly. One of the more "famous" voices endorsing Field Notes is none other than fountain pen guru Richard Binder. That alone was enough to satisfy me but the day after I placed my order, I found a thread on FPN where people were complaining of problems with feathering and bleed through. The possibility of Field Notes changing their paper recently has been floated about but doesn't seem to have any real proof behind it. I had already placed my order so I knew I'd be able to find out first hand. Sadly, it seems as if the detractors were right.
I tested the first page of a randomly selected notebook with 5 different fountain pens ranging from a Pelikan M200 to a Pilot Varsity. The feathering was immediately noticeable with the paper visibly sucking ink out of the nib. The minute I placed my Lamy Safari nib to the paper, my heart dropped. I had such high hopes for this paper but all was dashed in that split second. I continued testing pens, my Pelikan M200 dumped ink onto the page as if it were a sponge, even my lowly Platinum Preppy experienced a good amount of feathering. Of all the fountain pens tested, the best behaved was a cheap disposable Pilot Varsity. Oddly enough, while it managed to write without a lot of feathering, it was 2nd worst at bleed through.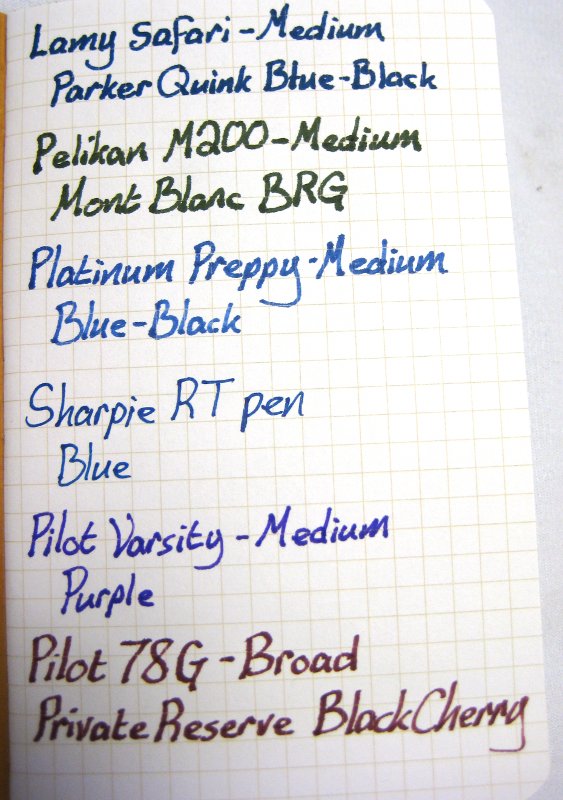 I tested a Sharpie pen for kicks but I wasn't surprised when it worked well, after all, it's designed for use on regular paper. One other odd note, this paper exhibits a quality where the grid lines actually seem to repel ink. The darker inks from the Lamy and the Pelikan show this phenomenon quite well. Even the Sharpie wasn't immune, the grid lines show through the lettering in several spots. I can't say I've ever experienced this with any other grid paper before.
Naturally when paper has this much feathering, you can expect bleed through and the Field Notes paper followed through with plenty. Normally I expect to see the writing through the page but the Pelikan and Varsity actually bled through enough to put spots on the next page. You can see the decent amount of bleed through exhibited by the Pelikan which was by far the worst performer of the bunch.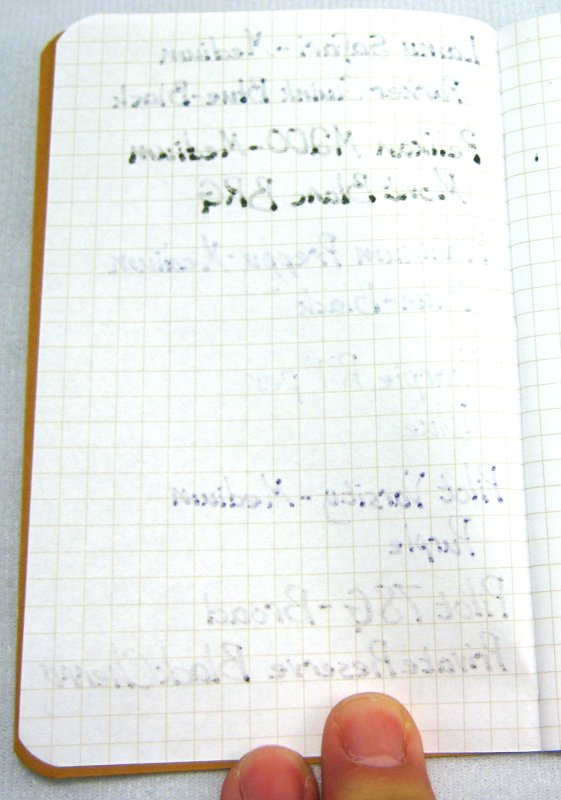 I wanted to be as thorough as I could be so I tried the Pelikan on the next page, and the next, and the next. Five pages in and I was still having the same feathering and bleed through as the first page. I then begrudgingly picked up the other 2 notebooks and soiled their first page with the Pelikan only to find that they didn't have any feathering issues. I numbered the bottom edges of 7 pages on both and the results were the same, the feathering wasn't there. However, the bleed through occured on each page I tested. I understand that a notebook manufacturer will have differences between paper batches but I can say without a doubt that all 3 notebooks that I tested have some degree of fault when being used with a fountain pen. I will say this, the Pelikan and the Mont Blanc ink combination seems to be a very bad offender when it comes to bleed through. I tested the same pen on a page from a Moleskine Volant and while it didn't feather, the bleed through was evident. However, since it happened with the Varsity as well, I can't fully excuse this paper.
Frankly the paper variation between the 3 notebooks is frustrating. The first notepad is useless if I use a fountain pen, the other 2 still exhibit a level of bleed through that I find unacceptable. I numbered several other pages in the remaining 2 notebooks using my Lamy Safari and, while the bleed through wasn't comparable to the Pelikan, any writing on those pages would render the back of the page useless. Comparing them to my recently purchased Moleskine Cahiers, I feel the Moleskine has the better paper. I have yet to experience feathering and bleed through with the same Pelikan is nothing like the Field Notes. If you use a gel pen or a Sharpie pen, you shouldn't let this review turn you off but fountain pen users beware! I very much prefer the look of these notebooks to the Moleskine and I'm kind of bummed that I had to soil all 3 to get a fair review. Oh well.
So there you have it, my first very long (and hopefully thorough) notebook review.