Review: Quo Vadis Equology Textagenda Planner
Exaclair has great timing. Right about the time I was lamenting my lack of organization, I stumbled onto the Quo Vadis blog and saw they were offering planners to bloggers who wanted to review them. I had no experience with any of their products but I'm not one to turn down an opportunity so I threw my hat in the ring. I chose the Equology Textagenda Daily planner which is marketed as a student planner but I hoped the daily layout would suit my needs. Karen quickly shipped the red covered planner I requested and I put it to use immediately. Over the last two and a half weeks, I've used it almost every day to keep my work and personal activities on track.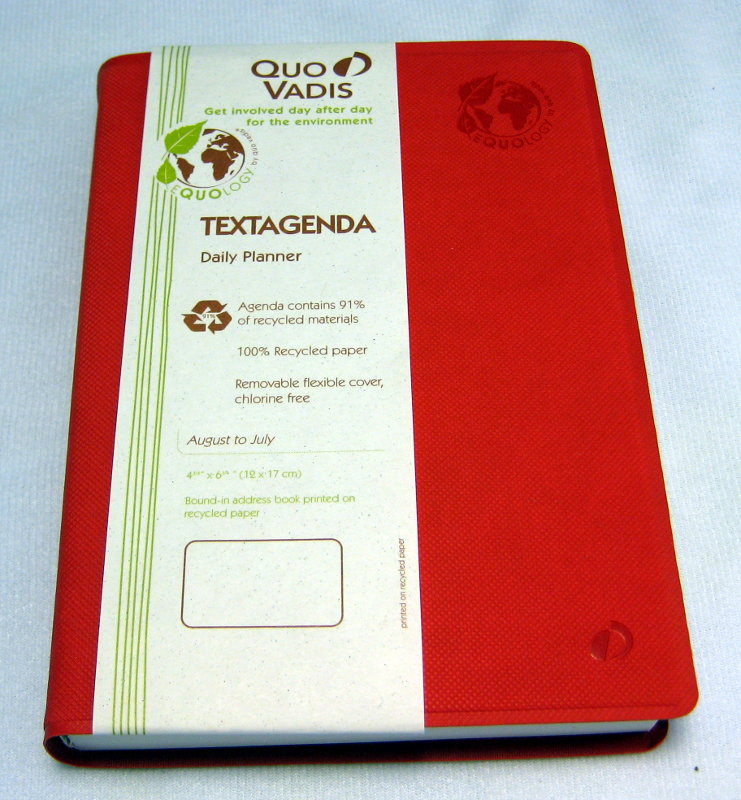 First, let's go over the basics of the Equology Textagenda. The Equology line is Quo Vadis' recycled paper products and while that makes most people cringe, you'll see you have nothing to fear. The cover has a nice textured rubbery feel and is refillable. Being that it's aimed at students, this planner covers the dates between August and July to accommodate a normal school year. I personally don't see that as a problem but some people will have a hard time getting out of the Jan-Dec rut. Quo Vadis does sell a planner called the "Notor" which contains what appears to be the same page layout but in a more conventional Jan-Dec date range. However, it should be pointed out that the Notor is not an Equology product thus does not contain recycled paper.
If I had to guess, I bet you're still thinking about the recycled paper. Admit it, the idea of writing on 100% post-consumer fiber conjures up images of writing on a paper towel or a brown paper sack. Well have no fear, Quo Vadis has actually created a recycled paper you don't need to be afraid of. It's not going to win a brightness contest against Clairefontaine or Black n' Red but for a recycled paper, they did a great job of making it white. Even more shocking is the fact that it's very fountain pen friendly. Even my Pelikan M200 with Mont Blanc British Racing Green ink which is notorious for how badly it feathers doesn't have any problems on the Textagenda's recycled paper. There was a fair amount of bleed through but I find that a normal occurrence with this pen and ink combination. None of my "normal" flowing fountain pens exhibited any annoying characteristics. As with most paper, there is a slight amount of show-through but nothing I consider to be out of the ordinary. I have used as many different types of pens as I could in the past 2 weeks and all of them were very well behaved on this paper.
Something I really found very handy is the way this planner helps you find the current date. Instead of an old fashioned ribbon, the bottom right hand corner of each page is perforated allowing you to tear off the corner once you're done with that page. This makes finding the current day a snap which is great if you're opening your planner before you've had your morning coffee. One word of advice, you may be tempted to tear off several pages at a time but that's not the best idea as I ripped a few pages trying to get caught up to the current date. I find the best way to tear them off is usually 2-3 at a time and folding them at the perforation helps as well.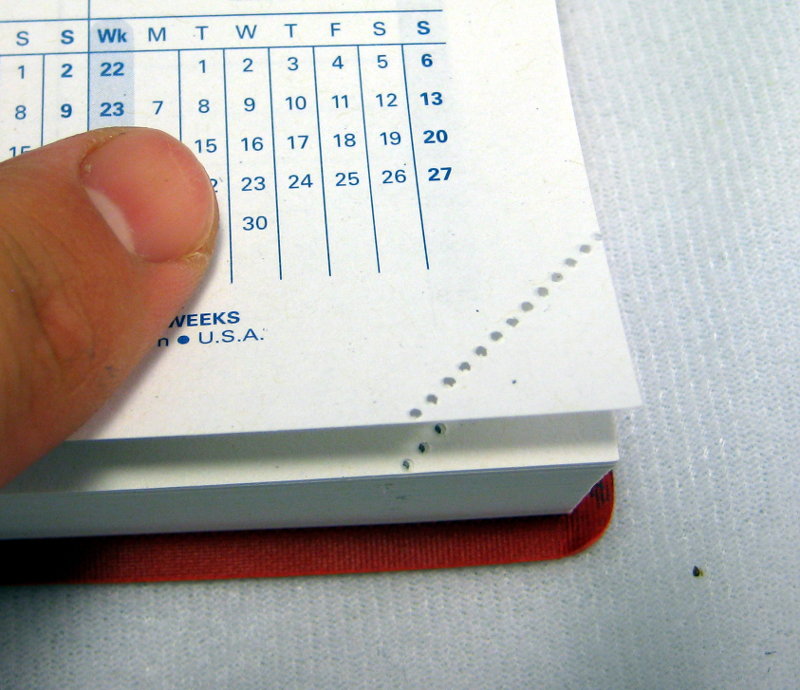 The Textagenda is one of Quo Vadis' line of medium sized planners and I think it's the perfect size for daily use.  It measures 4.75"x6.75" and I've been carrying it in a small messenger style laptop bag that I use to transport my 9" netbook. If it fits in that bag, it will just about fit in any bag. The cover is thin and flexible but very tough so it should easily handle being shoved in and out of your bag on a daily basis and will most likely live through many refills.
They actually crammed a lot of features into this planner, so many that I'm not going to have time to devote to each one. Sufficed to say, they're pretty self explanatory and if there's anything I don't cover to your satisfaction, just ask for a clarification in the comments.
When you open the planner, you're first greeted with the typical personal information page, followed by a quick glance calendar, a class schedule, and a very handy page that is labeled "Anno-Planning" which is intended to give you a quick daily glance at your entire year. There's a very tiny box designated for each page so I'm not 100% sure what you could write in there, but I suppose if you had small handwriting and a very fine pen, you might be OK. At the back of the planner there's several maps, an address book, and another quick glance calendar for the upcoming years, in this case, 2010/2011. I want to circle back to the address book very quickly. In today's day and age, almost everyone has their address book on their phone or has a dedicated book for this information. I'm not sure if I'd want to spend time putting a bunch of address data into a planner that will only last a year but if you want it, Quo Vadis has provided it. I'm sure someone will find it very handy and if you don't, it's easily ignored.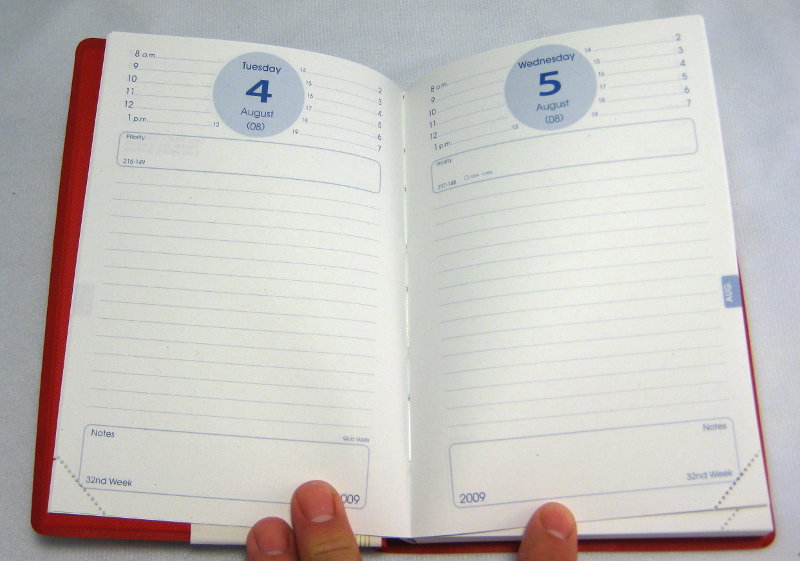 Quo Vadis makes it clear on the opening page that they intend for this to replace the somewhat normal system of random dates and notes in a notebook. Once you see the open page layout, it's pretty obvious how this planner could easily fix your poor organizational skills by giving you a great place to cover what needs to be accomplished on any given day. Sure, you'll still need a real notebook for notes, but if you need to jot down something about your schedule or just a quick note, there's plenty of room for it.  At the top of each page is a very prominently displayed date surrounded by lines for each hour between 8am to 7pm. These are clearly intended for printing your class schedule although you shouldn't feel locked into that. I've been using this section to jot down meeting schedules for those rare days where I might have to tear myself away from my desk.
The rest of the page consists of a box for the day's priority items, 14 blank lines, and another box for notes.  I've been using the 14 blank lines as my way of keeping track of what I need to do throughout the day, and also as a record of what I've accomplished. Seeing how the lines are blank, you're free to work out your own way of using them. I use a system of prefacing each line with a P: or W: which obviously stand for Personal and Work. I mostly use the planner for work as I need to remember what I did the day before in the morning's stand-up meeting.
Until the Textagenda arrived at my door, I had been using a single notebook for all my meeting notes, work notes, schedules, etc… Once I had this daily planner in my hand, it became obvious how cluttered my previous system had been. Sure, it wasn't a bad setup but when I can easily flip back to last Tuesday and see what I worked on, it makes a big difference over the scrambled notes I had before. All in all, I find the Textagenda to be a very well executed daily planner and it does a great job bridging the gap between a serious planner and a notebook for your daily tasks. Whether you're a student or not, it's a handy tool. It's also good for us pen geeks to know we don't have to be afraid of using our favorite pen on this planner, even if it is made out of recycled material.