Review: Doane Paper Idea Journal
Come, let us celebrate the new world of Twitter, for most of us probably wouldn't know about half the things we do.
For me, one of those things is Doane Paper and their unique stationary offerings. Their website is fun, their products are simple, and they don't bury you in options. I don't need 15 different pads; give me a few options in a couple sizes and I'm good. Doane must have the same belief because they offer 3 different style pads, with a maximum choice of 2 sizes. That's perfect and I must thank them for it.
I'll admit, I was tempted by their legal pads. There's just not a lot of good legal pads out there but not being sure what to expect of their paper, I ordered the small "Idea Journal" and figured I'd feel it out from there.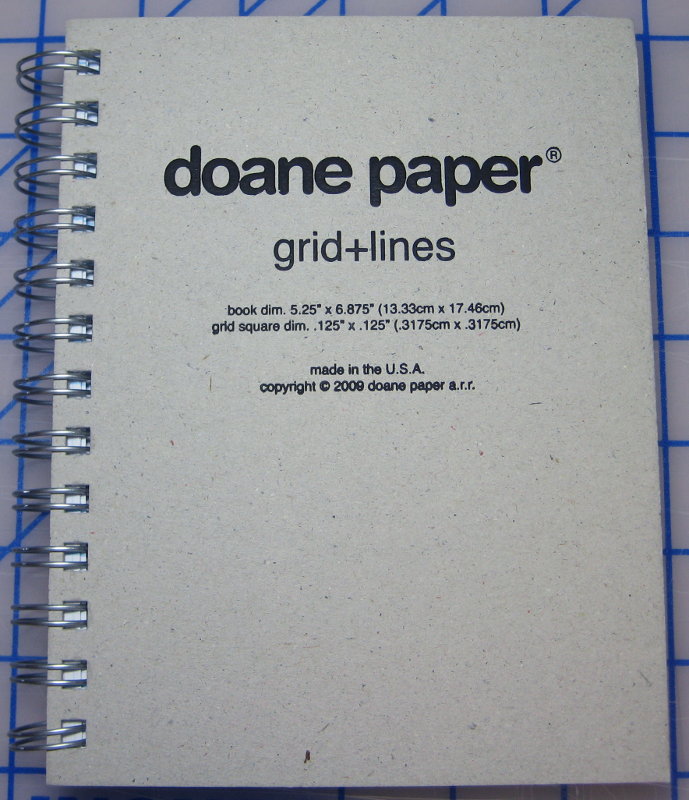 Clearly their most unique feature is the paper and even more odd is the fact that they provide you with the template for free if you want to make your own. Have a love affair with 32lb HP paper but dig the Doane lines + grid format? Not a problem, grab their template and make your own. How cool is that?
The Idea Journal is a pretty simple design; thick recycled covers, a strong spiral binding, and bright white 60lb paper with their signature and unusual lines + grid format. I almost hate to say this, but it's so simple it might cause some people to overlook how good it is. This thing isn't flashy or trying to be fancy, it's just a good solid journal. That's not a bad thing, let's make that clear. We live in a world flooded with notepads vying for our attention with all sorts of marketing schemes. It's nice to find one that isn't trying to act like something special only to leave you annoyed with the lack of quality.
As with every notebook review, it always comes down to the paper. I'll just come out and say it, it's good stuff. The lines + grid layout doesn't really resonate with me but that's mainly because I feel the, big horizontal lines are too far apart. They're spaced 3 grid lines apart when I'd prefer them to be only 2. Of course, that's just an opinion and once you get past the line situation, the paper is fantastic. No feathering, no bleed-through, and practically no show-through even with wet pens and dark ink. Combine all that with the bright white color and I can't find a thing to complain about except those pesky lines.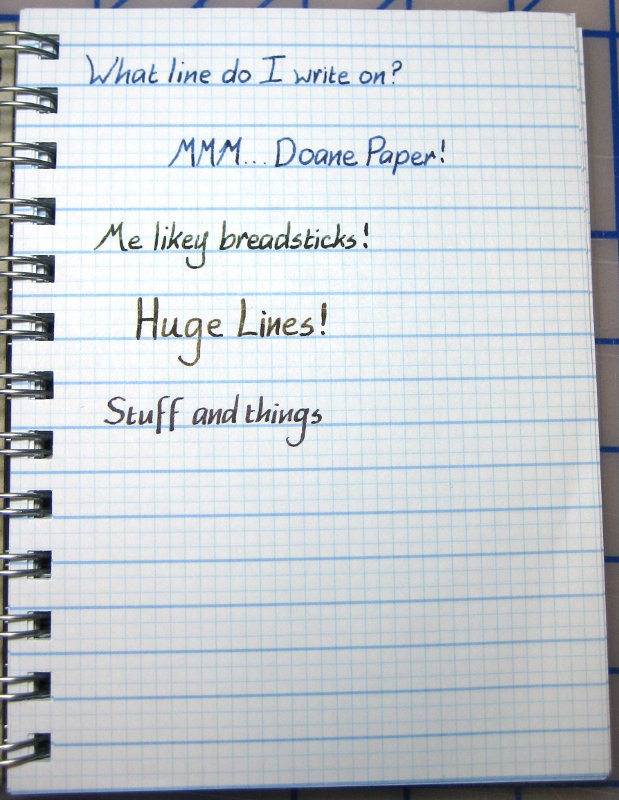 I'm not exactly sure where this journal is going to fit into my life as I still haven't made up my mind on lines yet. For some reason I see this line format working wonderfully for the legal pads but in a journal it seems out of place. As always, you'll have to get your hands on the design to see how it feels for you and seeing how they offer their template for free, that's not too hard to do.
If you're picky about your paper, I'd put Doane Paper in the top contenders. I think I'll have to get my hands on those legal pads after all.