It's the size of the dongle
Asus announced this week that they are offering a free "dongle" to fix the GPS problems with their flagship Transformer Prime. Here's how they describe it:
Although the Transformer Prime is not a professional GPS device, as part of our unwavering commitment to customers we are offering all Transformer Prime owners a free external GPS extension kit, called a dongle, which may help improve signal reception and optimize the user experience
I was curious if the Prime was advertised as having GPS from the get-go so I headed to the Asus page for the Transformer Prime to see what it said. It's not very surprising to find the term "GPS" missing from sensor listing.
Sensor G-Sensor, Light Sensor, Gyroscope, E-compass
It would seem that they dropped GPS from the listing sometime around the beginning of January according to RegHardware. Early on, Asus refers to a GPS module as evidenced by this posting on their UK site. They even went so far as to release a software update in January to try to fix some aspects of the GPS as reported by AnandTech.
For an in depth look, check out this AnandTech article where they ultimately blame the aluminum construction for the poor WiFi and GPS signal. The original Transformer was housed in plastic and still declares GPS as a function on the specification page.
It's fairly obvious that Asus fully intended to have GPS as a feature on the Prime. In fact a lot of retailers still list GPS in the feature list, see Best Buy for example. Ultimately it seems that instead of owning up to their engineering failure, they intend to "fix" it with a dongle that ruins the Transformer Prime's sleek lines. Even better, you get to chose between working GPS or using the keyboard dock.
Take a look at this thing!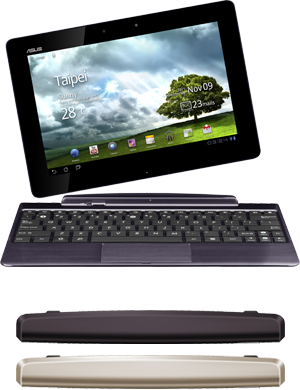 As expected, Asus is patting themselves on the back for how they handled this.
ASUS prides itself on delivering an unrivaled user experience, and we offer our sincere apologies for any inconvenience that our customers may have encountered.
Asus screwed up and instead of owning their mistake, they'll kindly send you an ugly piece of plastic and insinuate that you expected too much of their product despite what their spec sheet said. The proper reaction would have been to immediately offer refunds to anyone who bought a Prime and is unhappy with the GPS performance. Even better, they should have locked their best engineers in a room until they came up with a real fix. The fact they think this is a solution is laughable.