The G2 family keeps growing
This is probably old news for you Pilot G-2 fanatics, but there's a G-2 "Limited" out there. When I saw one in person, I decided I had to have one for my very own.
The popular G-2 pen is cheap and that's the draw, it's a fantastic writer, very low priced, and it's comfortable. Pilot definitely hit a home run when they designed this pen. Then, as if they knew there might be a portion of the world who wanted something a little bit fancier, they released the G-2 Pro. This was the same gel refill wrapped in a larger diameter plastic body with metal accents. If you found the original G-2 to be a bit too skinny, this one was perfect. I very much enjoyed mine when I wasn't being a fountain pen snob.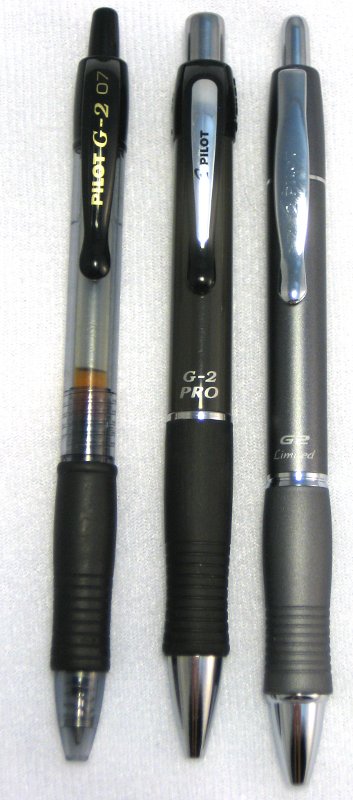 Now, enter the G-2 Limited. It has a metal body available in 3 different colors, the accents are still metal but so is the clip. The rubber grip is even color matched to the barrel making for a very striking appearance. Now it feels like a real fancy pen at a paltry $10. In fact, when I bought mine, it had a $3 rebate making it a whopping $6 pen with a much more expensive feel. All while providing the same great writing experience we've come to love with the G-2.
I may be out of the loop here, but I noticed a rather cool feature on the Limited. Looking at the button from the top, if the pen is retracted, you can see a green dot, otherwise there's just an empty hole. I assume this is there so a quick glance tells you the pen is retracted and safe for the pocket. Or… they just made a green dot in the button for no reason at all. I'm not sure which.
That sounded like an infomercial but I'm admittedly enamored by this pen.