Review: Black n' Red notebooks
Update 2014-03-27: I've revisited this review after 5 years, see if I still love these notebooks by clicking this sentence
If you're like me, you love collecting paper. Notebooks, journals, reams of paper, these are things that a lot of us have squirreled away somewhere in our home. And in my case, most of them are blank but that's a subject for another day. 🙂
Today I am reviewing the Black n' Red brand notebooks. They come in a variety of styles and sizes and I know you will love them if you haven't tried them yet. These have been my go-to notebooks ever since I discovered them and the fact that most of my local major office supply chains, as well as Rite Aid carry them… well that just makes them all the more perfect!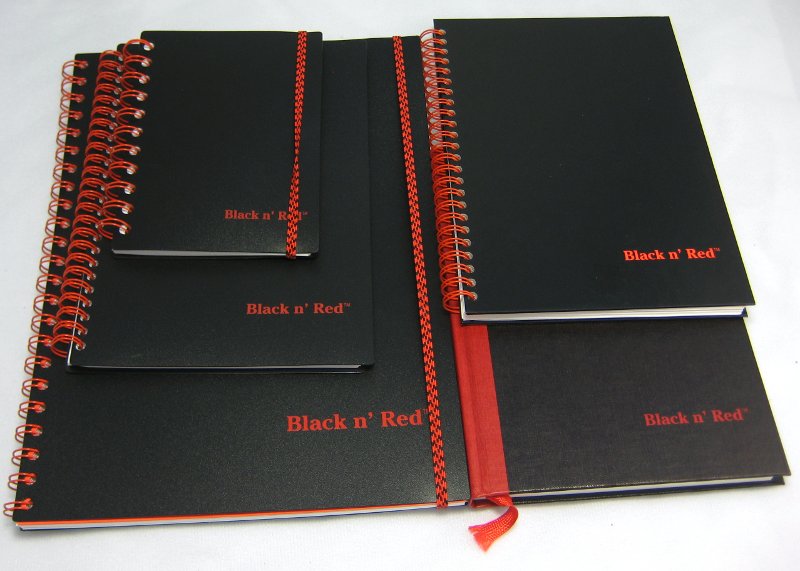 According to the manufacturer's website, they have a very wide range of covers. Hard cover bound (bottom right hand corner in the picture above), hard cover spiral bound (top right corner), polypropylene cover (the entire left hand side in a varied range of sizes) and then they have several other options that I don't own. The rest of the choices include poly covered flip notebooks, executive refills, and even a notebook made from recycled materials.  In my experience, the ones I have pictured are the easiest to find and I haven't actually found any of the other options in my area.  Black n' Red is a UK company and there may be a limit to what is imported, or I haven't found the right store yet. My local Office Depot did have an A6 sized bound hardcover which I believe is the first time I've seen one in that size and binding.
Sizes, covers, bindings & colors
Let's get the appearance stuff out of the way first. As the name implies, the Black n' Red notebooks are… black and red. My favorite color combination happens to be black and red so I find these perfect. If you're looking for something a little more colorful, these probably won't be on your shopping list. In terms of notebook sizes, almost every notebook they make comes in A4, A5, and A6 sizing. There are a few other sizes in between those that I'm not familiar with, but it's safe to say that these 3 sizes are the most common across all the bindings and cover options.
The Poly notebooks have an elastic cord that hold them closed and I need to address this feature specifically. Yes, having an elastic band is a handy feature but unfortunately the rivets used to hold the band to the back cover cause headaches when you're writing. If you use the notebook on a flat surface, you can feel the rivets all the way through the paper making them rather uncomfortable to write over. Depending on the notebook, I usually rip the elastic band out and pry the rivets out with a knife. This allows the notebook to sit flat and I don't have to write over rivets anymore. I wouldn't hold this against them as the elastic band is "in" these days and they did a great job making it very sturdy. If you're a lap writer, these probably won't bug you or if you really like the band, you can fold the back over under the other side and write in peace.
My notebook of choice is the hard cover, spiral bound, A5 size. I like the hard cover as it allows me to use it when there is no desk around and A5 is a perfect size for sliding into my computer bag or just carrying around. A little side note here, I've not found any hard cover spiral A4 or A6 notebooks in my area. They may exist in the US, but I haven't found them with the exception of the A4 hardcover with built in calculator. I suppose those count but they cost a lot more than the regular versions so I don't even consider them.
I happen to find spiral bound notebooks to be an on-again, off-again annoyance due to the binding getting in the way when you're writing on the left hand page. Luckily, Black n' Red does offer a bound hardcover version which I own but have not used yet. There are rumors of the bound notebooks having different paper than the spiral, but Black n' Red make no note of any paper variations on their website so that fact is yet to be determined. The cover is a different texture than the spiral books and the binding is covered with red colored tape which makes for a handsome looking notebook.  I'm excited to give this one a try as soon as I work my way through the pile of notebooks ahead of it.
The Paper
Let's be honest, it doesn't matter how fancy the notebook is, if the paper isn't great, you're not going to use it. Black n' Red notebooks all use the same 90 gsm (24 lb) paper and their website clearly touts that it's fountain pen friendly. In my experience, this paper is extremely fountain pen friendly and even holds up to doodling with a Sharpie Pen. I expected some sort of bleed through when scribbling shapes with my red pen but the 24lb paper was up to the challenge and the other side was blemish free.
The A4/A5 notebooks have the typical personal information page where you can fill in your contact details, as well as a table of contents. The opposite side of that page contains a timezone map and some conversion information for EU to US measurements.  It should be noted that the bound hardcover book has fixed pages but all the spiral notebooks are perforated to allow clean removal.
I've used numerous pens and numerous inks with my Black n' Red collection and I've only found one oddity. Occasionally you'll run into a single page that doesn't dry very well. It doesn't seem to be very frequent, but when it happens, it's annoying. With a very wet writing fountain pen, and one of these oddball pages, I've still had wet ink after sitting overnight. While that sounds awful, I'm happy to report it happens very infrequently. I have a poly cover A5 notebook on my desk at work that has been filled with notes from various fountain pens and I can't remember having one page with this problem. My journal, which is in a hardcover A5 notebook, has had maybe 5 out of the entire book and I write on the front and back of each page. In my personal experience, the excellent writing qualities of this paper far outweighs an occasional bad sheet.
Black n' Red offer many different ruling options but I only own the regular ruled paper. To the best of my memory, I don't recall seeing any other options available at the stores where I shop. The lines are a grey color and very prominent on the page. When placed next to a Rhodia pad, the paper has a bit of an off white hue but I've always found it to be quite bright. If you make sure you don't put your Black n' Red next to anything with Clairefontaine paper, it will appear to be very white.
One important factor with any paper is whether it encourages feathering from fountain pen ink, or if it bleeds through easily. I have never experienced any bleed-through or feathering during normal writing in any of the Black n' Red models I've used. I've used very wet writers, very broad nibs, and several different inks and none of them have acted any differently on this paper. One thing's for certain, Black n' Red paper is very consistent when it comes to feathering or bleed-through.
Some people don't like smooth paper and prefer a little feedback. I've always been of the opinion that the Black n' Red was an incredibly smooth paper and while that's true, it's not as smooth as Clairefontaine. If you use Rhodia notebooks and feel the paper is a tiny bit too smooth, perhaps Black n' Red will provide what you want. If you like toothy paper, the Black n' Red isn't going to deliver.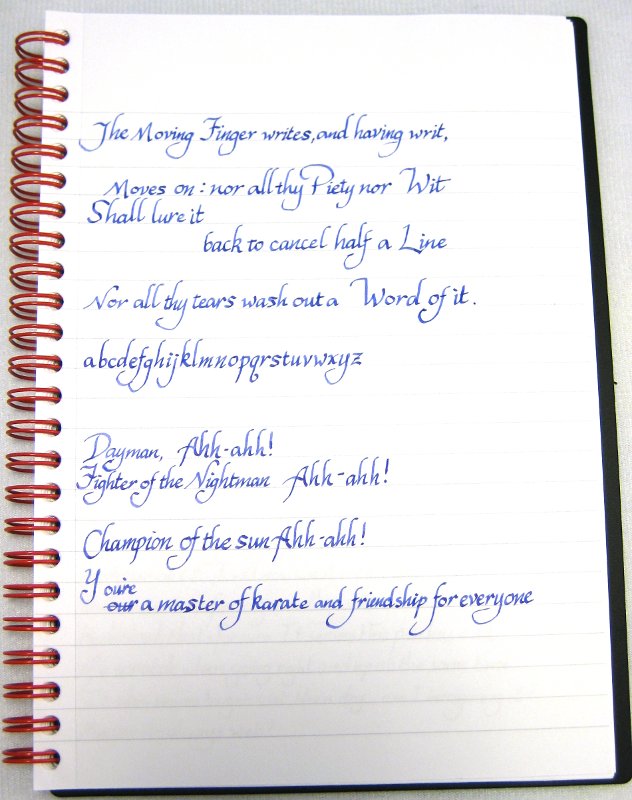 My Final Thoughts
I don't know what that above picture intends to illustrate other than my poor attempt at fancy writing, but I can assure you that I've used everything from a Visconti Van Gogh to a Platinum Preppy on Black n' Red paper and loved every second of it. How about a hidden contest? I'll send a brand new Platinum Preppy fountain pen to the first commenter who correctly identifies where the bottom 4 lines of that page come from. EDIT: Julie AKA Okami has won! Congrats!
It used to be that you could walk into your local Rite Aid and purchase these notepads at prices roughly $2 less than at the office supply stores. Unfortunately, they seem to have updated their pricing to be on par with the office supply stores. Of course, the fact that you can wander into your local Rite Aid and pick up such a fine notebook is an awesome reason to use them.  You're going to spend roughly six to seven dollars on an A5 version but for the quality, I don't find that outrageous.
If you're interested in finding one of these, check your local Rite Aid, Office Depot, and Staples. I've seen them in all 3 of those stores as well as a few other places.