The new work area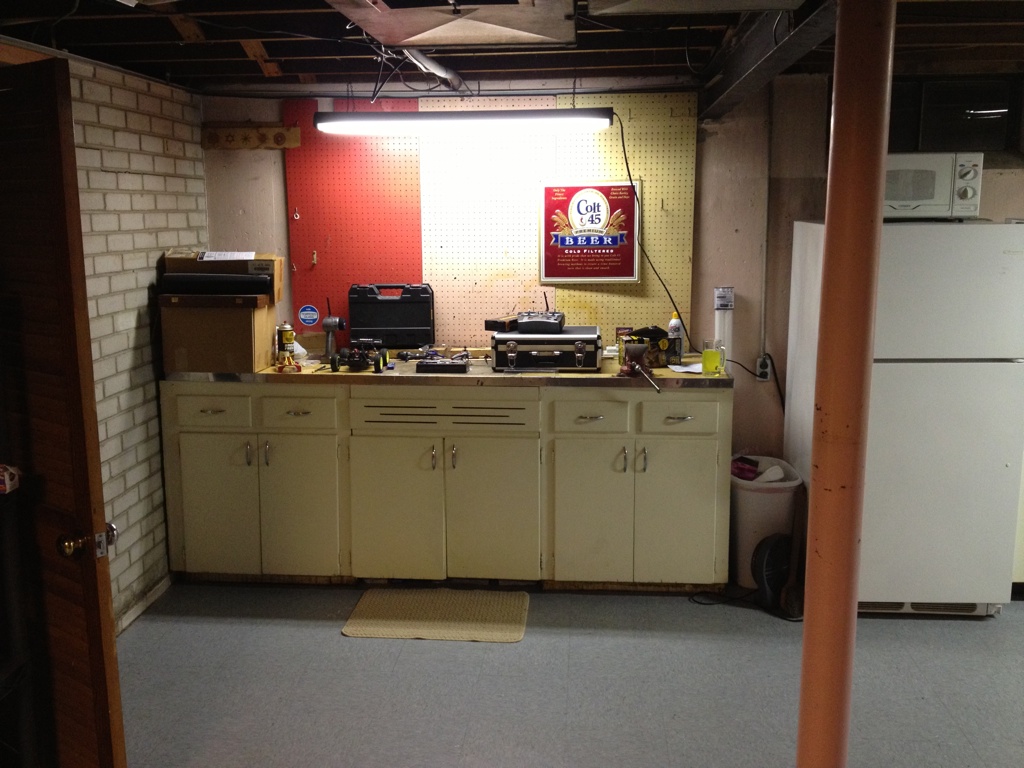 We purchased this house a little over 2 years ago, ecstatic to pay less than our rental home and very happy to have a second bathroom. As excited as that extra toilet and shower made us, I can count on my fingers and toes the number of times that tiny basement bathroom has been used.
But what's this? Someone from decades prior has set up a work bench of sorts. Sure it's just a bunch of 1950's era kitchen cabinets relocated to the basement but who can argue with this location? There's the aforementioned bathroom to the left and a refrigerator to the right. What else could a man possibly need?
As I dive further into the hobby of remote controlled vehicles, I need a place to work. I've been doing everything at the desk in my office, a task made near impossible by the amount of clutter I tend to live in. As the wife and I performed our pre-spring cleaning of the basement, I saw this area as a new frontier, a place I could claim as my own, a place that might provide a sanctuary for my remote controlled hobbies.
This is where I will build my future helicopter (an Align 450 T-rex clone), it's where my existing helicopters live, where my Losi Mini 8ight is stored when it's not outside flipping upside-down because the driver isn't all that great. It's where I'll store the tools I designate as the "indoor tools", separate from the tools in the garage. None of this makes much sense but that's how I tend to work. Perhaps this area will end up dusty and unused, or maybe this time around I'll find a hobby that captivates me longer than anything else.